Factory Wholesale Headphones
Our factory's wholesale headphones include in-ear headphones, over-ear headphones, traditional wired headphones, bluetooth headphones, TWS earbuds, bone conduction headphones. With our commitment to excellence and efficiency, we are able to deliver high-quality headphones at a competitive wholesale price.
Why Choose Us
Quality-Oriented Services-First
#1 OEM Services
---
We are a flexible factory. Which we could accept 1000pcs trial order with your OEM design.
#2 Marketing Package
---
We have a design team that can provide marketing package. which means we could help you to advertise better.
#3 Rich Experience
---
We have erported headphones and bluetooth to 50 countries. And we cooperated with over 300 brands.
#4 Market Research
---
Our sales are good at market research. which means we could help you to alaysis your competitors and your market.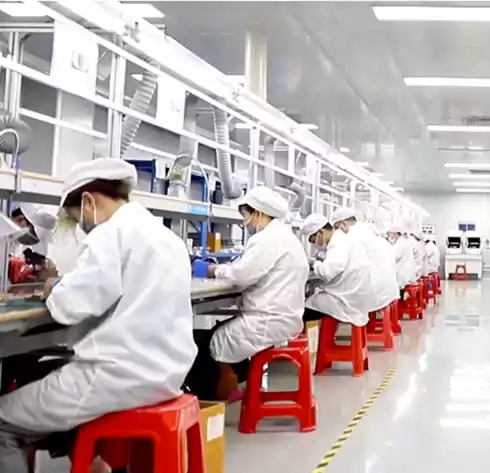 Professional Experiences
Dazun Co. is a professional manufacturer for all kinds of Consumable electronics, such as Wholesale Bluetooth Speakers, Radio, Wholesale Headphones, Promotional Gift products….With more than 12 years experience, and equipped with 6 production lines, more than 200 skillful workers, 12 experienced engineers.
Our monthly production capacity is 800K pieces. All products can meet European standards and US standards, such as CE, RoHS, REACH, and FCC. We are mainly providing OEM and ODM service to our customers. Whether selecting a current product from our catalog for a modifying or seeking new products development from your own design, we can support you with our professional RD group.
Wholesale Bluetooth Speakers – Internet Celebrity Explosion Item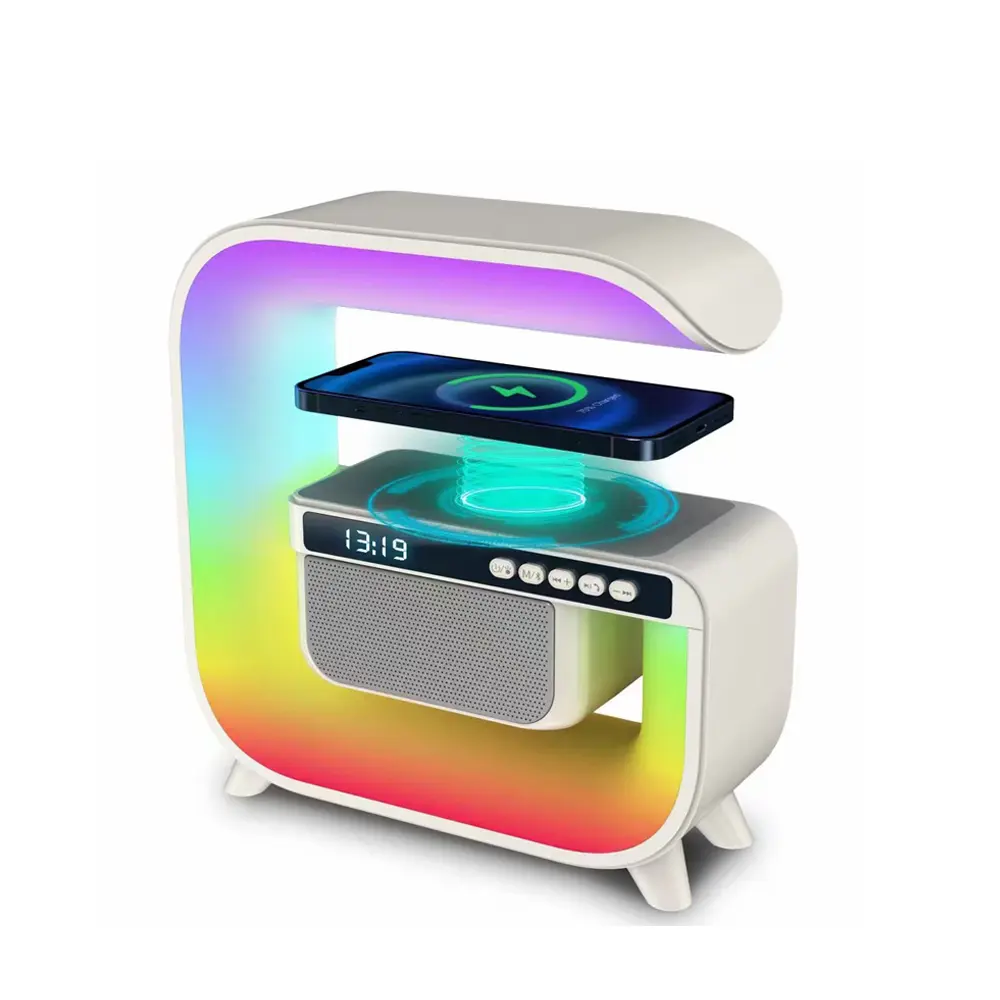 G3
Material:ABS + PC
Bluetooth Version:V5.3
Wireless charging:15W
Function:Bluetooth, USB, TF, AUX, TWS, FM, LED atmosphere lights, Fast wireless charging, Clock , Alarm clock
Horn power: 4 Ω 5W
Transmission range:10m
Battery:1500 mAh
Product size:218*80*228 mm
Product Weight:720g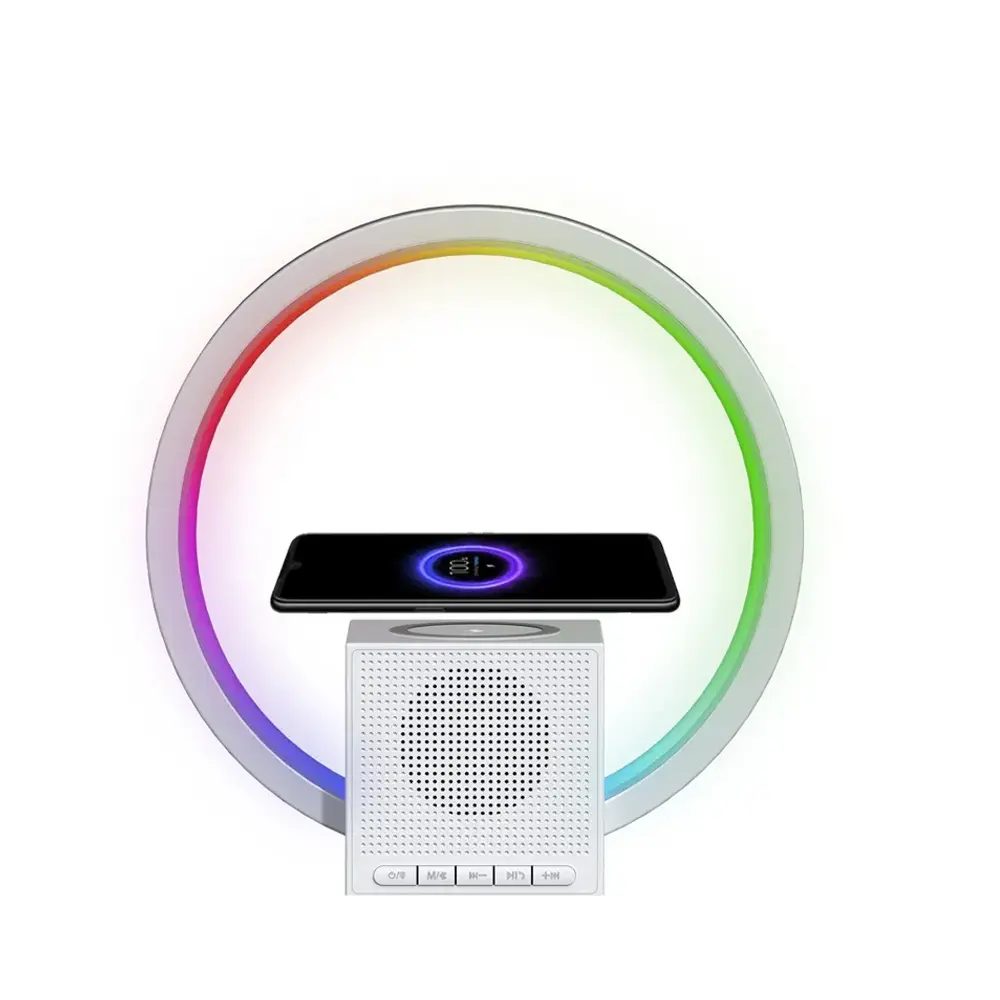 BT 258
Material:ABS +PC
Bluetooth Version:V5.0
Wireless charging:15W
Function:Bluetooth, USB, TF, AUX, , SIX LED Atmosphere Lights, Fast Wireless Charging
Horn power: 4 Ω 5W
Transmission range:10m
Battery:5V/1500 mAh
Product size:220 *200 * 10 mm
Net weight of product:625g
BT 256
Material:ABS +PC
Bluetooth Version:V5.0
Wireless charging:15W
Function:Bluetooth, USB, TF, AUX, , SIX LED Atmosphere Lights, Fast Wireless Charging
Horn power: 4 Ω 5W
Transmission range:10m
Battery:5V/1500 mAh
Product size:220 *200 * 10 mm
Net weight of product:625g
Wholesale Bluetooth Speakers – Small Order Available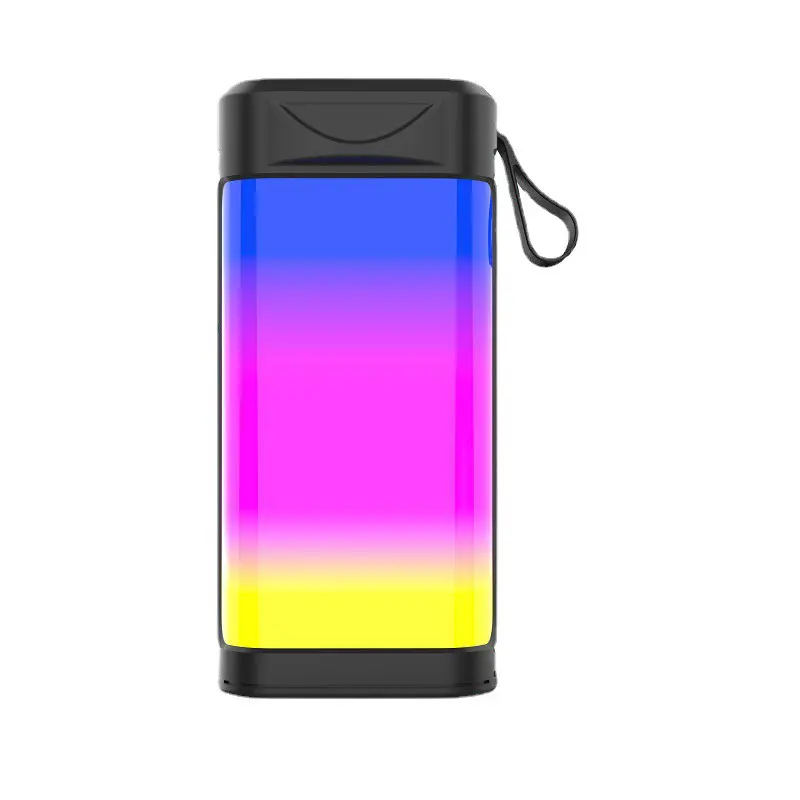 1206
Bluetooth Version:V5.0
Function:Bluetooth, TF, AUX, TWS, FM, LED lights
Horn power: 2" 5W
Transmission range:10m
Battery:3.7v/500 mAh
Product size:70*73*158 mm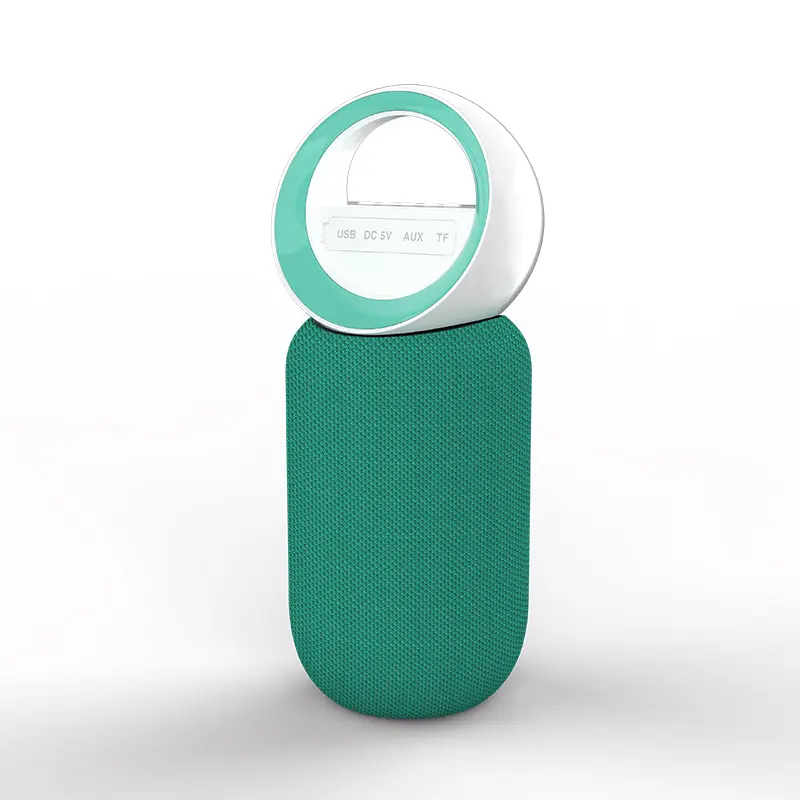 1323
Bluetooth Version:V5.0
Function:Bluetooth, TF, AUX, TWS, FM
Horn power: 3" 8W
Transmission range:10m
Battery:3.7v/1800 mAh
Product size:125*120*303 mm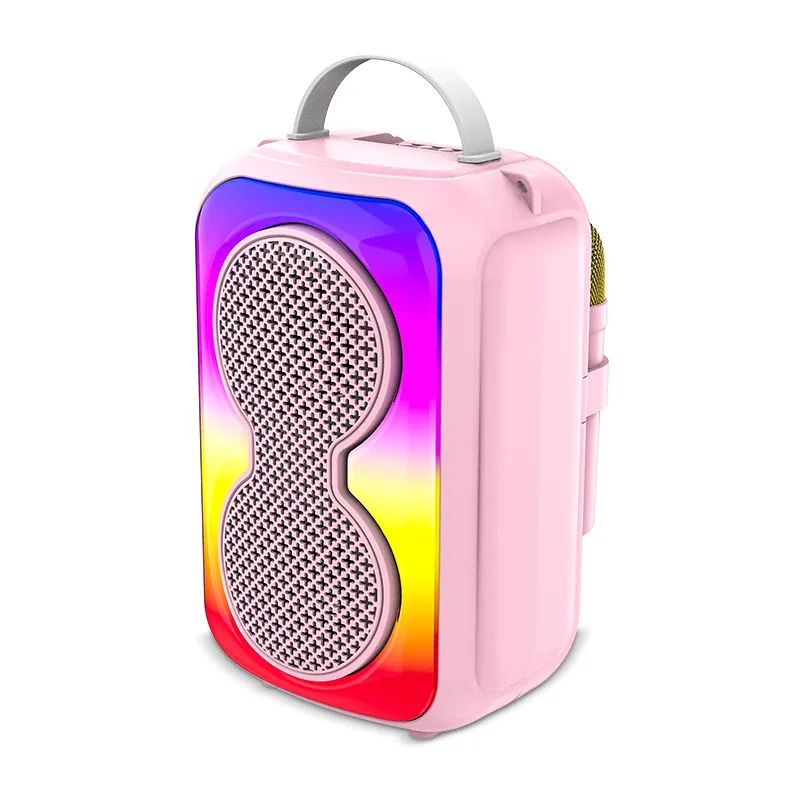 3301
Bluetooth Version:V5.0
Function:Bluetooth, TF, AUX, TWS, FM
Horn power: 3" 16W
Transmission range:10m
Battery:3.7v/1800 mAh
Product size:160*150*255 mm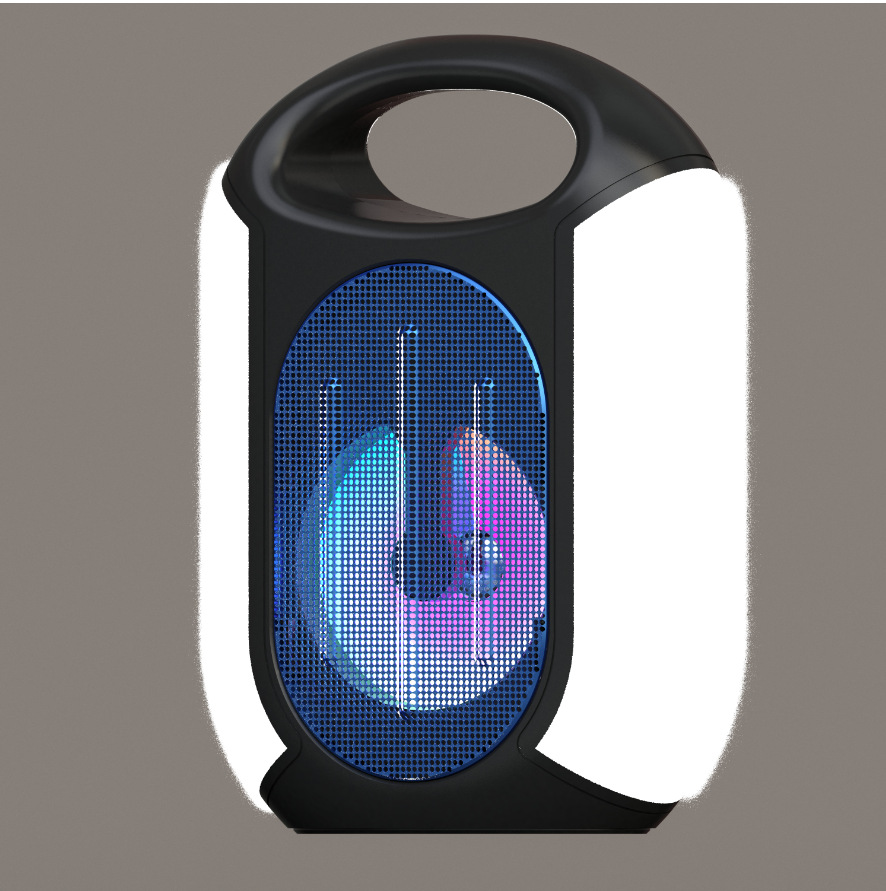 1423
Bluetooth Version:V5.0
Function:Bluetooth, TF, AUX, TWS, FM, LED camping lights
Horn power: 4" 15W
Transmission range:10m
Battery:3.7v/3000 mAh
Product size:203*195*670 mm
1211
Bluetooth Version: V5.0
Function:Bluetooth, TF, AUX, FM,USB,RGB Lighting
Horn power: 2"*2 8W
Color: Black/Red/Blue
Battery:3.7v/1200 mAh
Product size:69*65*198 mm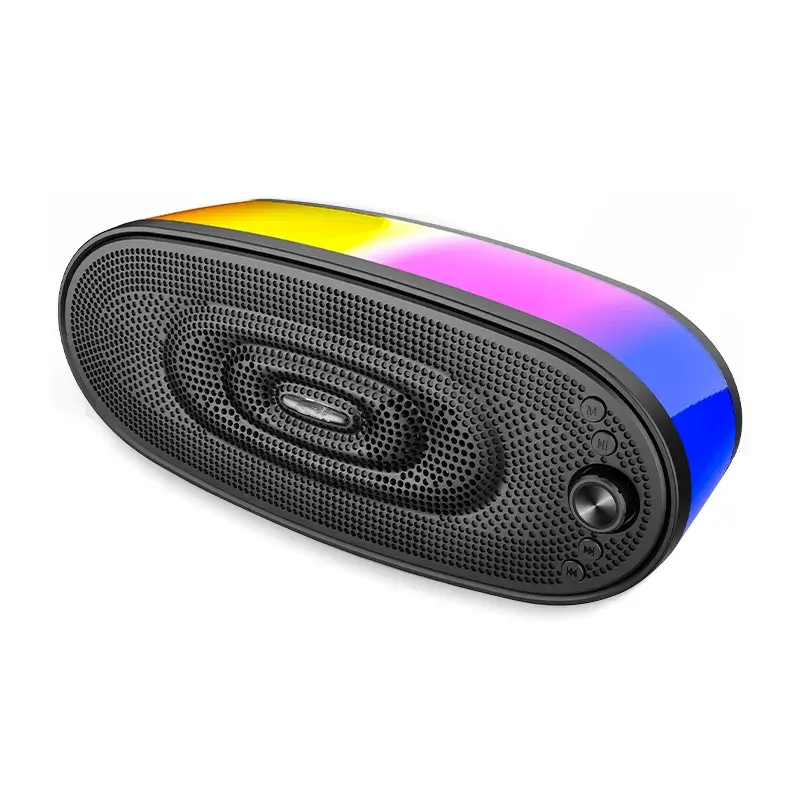 2210
Bluetooth Version: V5.0
Function:Bluetooth, TF, AUX, FM,TWS,USB,RGB Lighting
Horn power: 2"*2 12W
Color: Black/White
Battery:3.7v/1200 mAh
Product size:265*85*110 mm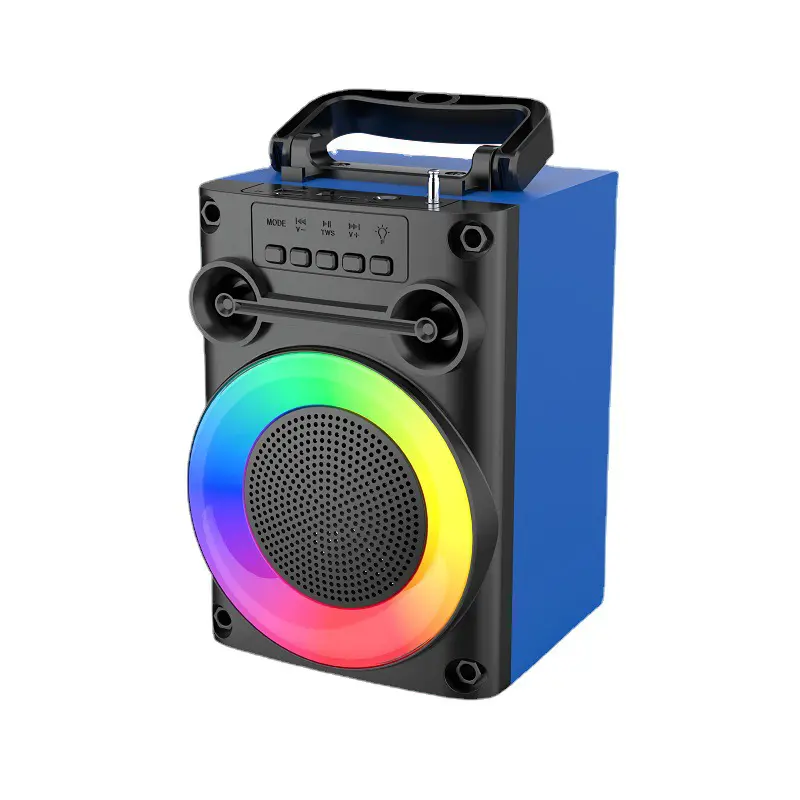 1455
Bluetooth Version: V5.0
Function: Hands-free,FM, TF, TWS,Mic,RGB Lighting
Horn power: 4" 8W
Color: Black/Red/Blue
Battery:3.7v/1200 mAh
Product size:140*121*220 mm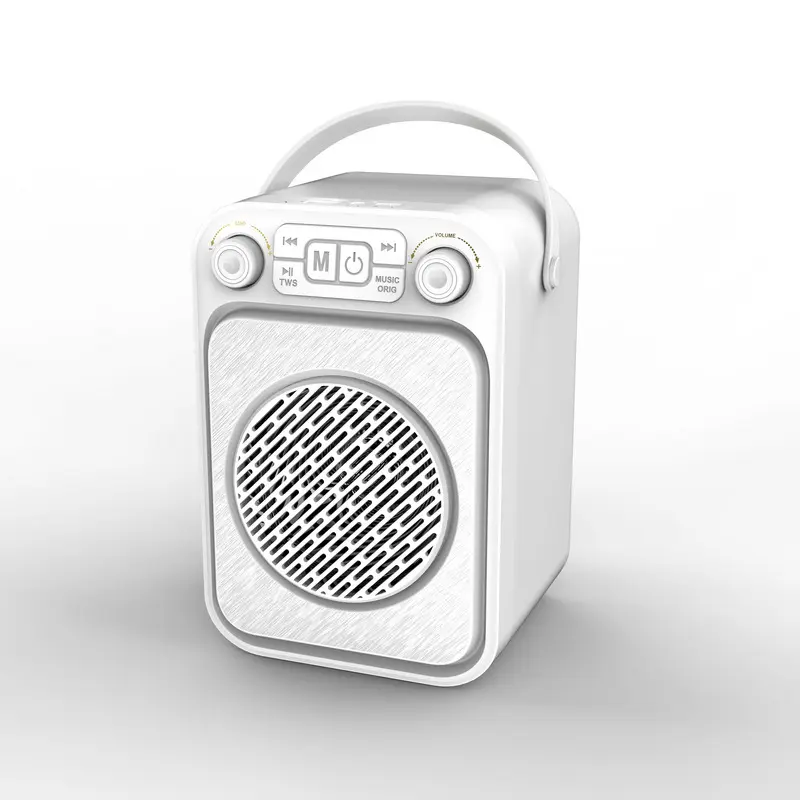 1458
Bluetooth Version: V5.0
Function:Bluetooth, TF, AUX, FM,USB
Horn power: 4" 10W
Color: Black/White
Battery:3.7v/1800 mAh
Product size:175*128*203 mm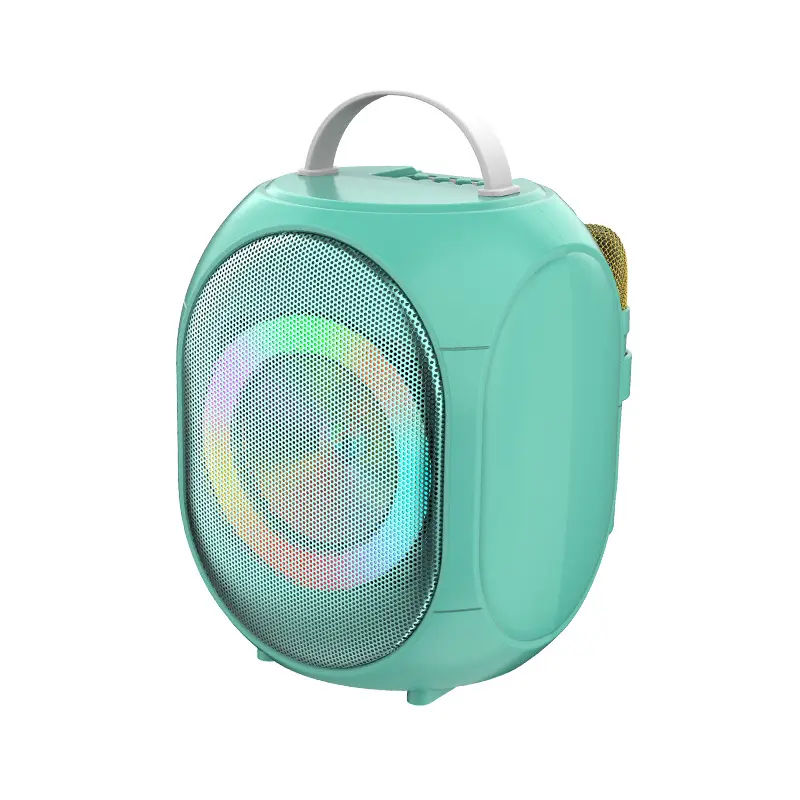 402
Bluetooth Version: V5.0
Function: FM, TF, TWS,Mic,RGB Lighting
Horn power: 4" 8W
Color: Black/Green/Blue/Pink/Orange
Battery:3.7v/1500 mAh
Product size:140*121*220 mm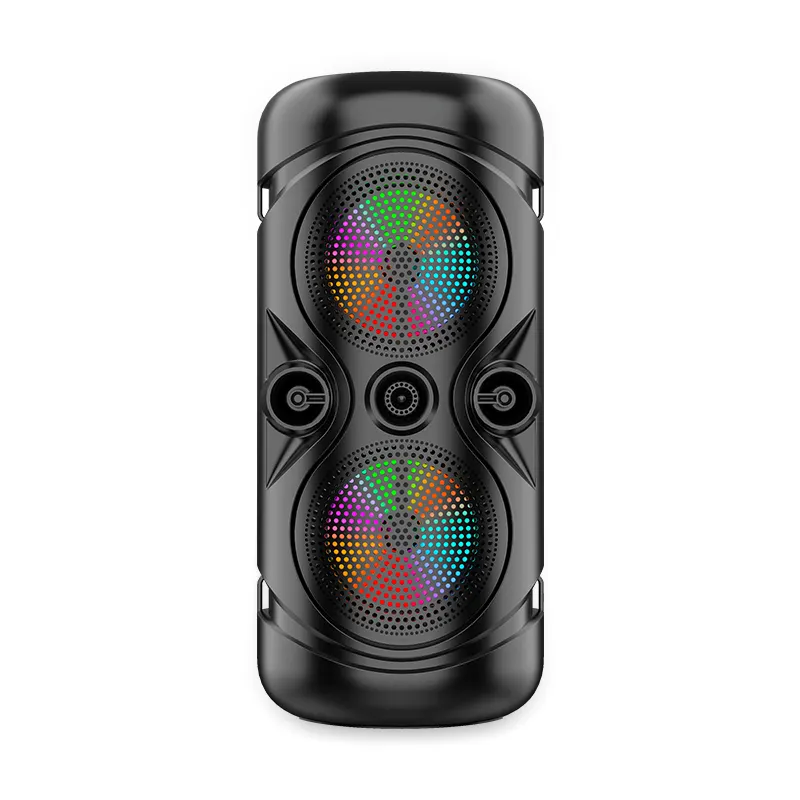 4259
Bluetooth Version: V5.0
Function: FM, TF, TWS,Mic,RGB Lighting
Horn power: 4"*2 16W
Color: Black
Battery:3.7v/1200 mAh
Product size:161*161*350 mm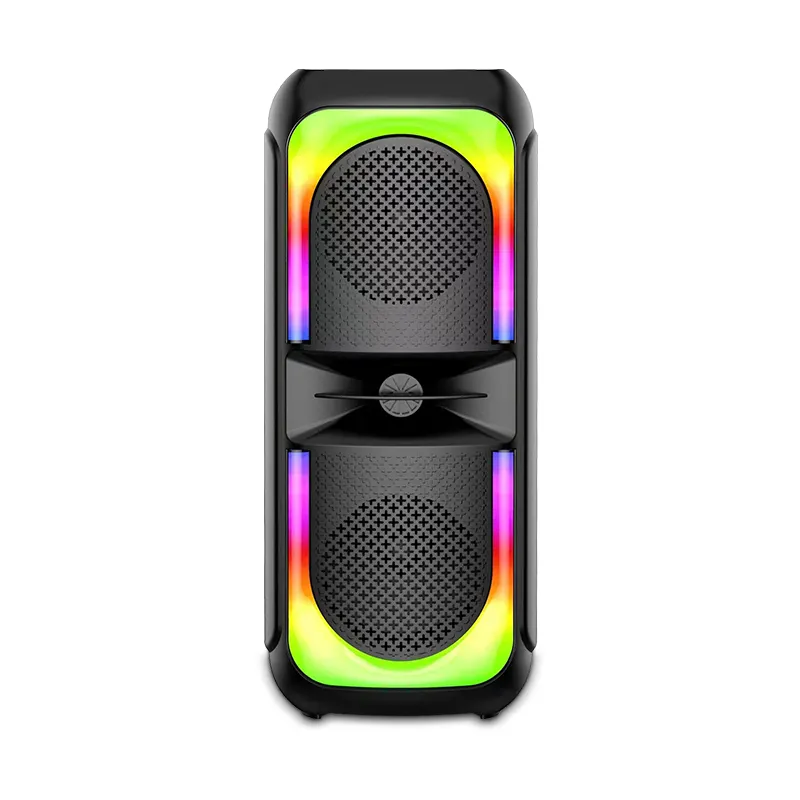 4265
Bluetooth Version: V5.0
Function: FM, TF, TWS,Mic,RGB Lighting
Horn power: 4"*2 16W
Color: Black
Battery:3.7v/2400 mAh
Product size:180*160*405 mm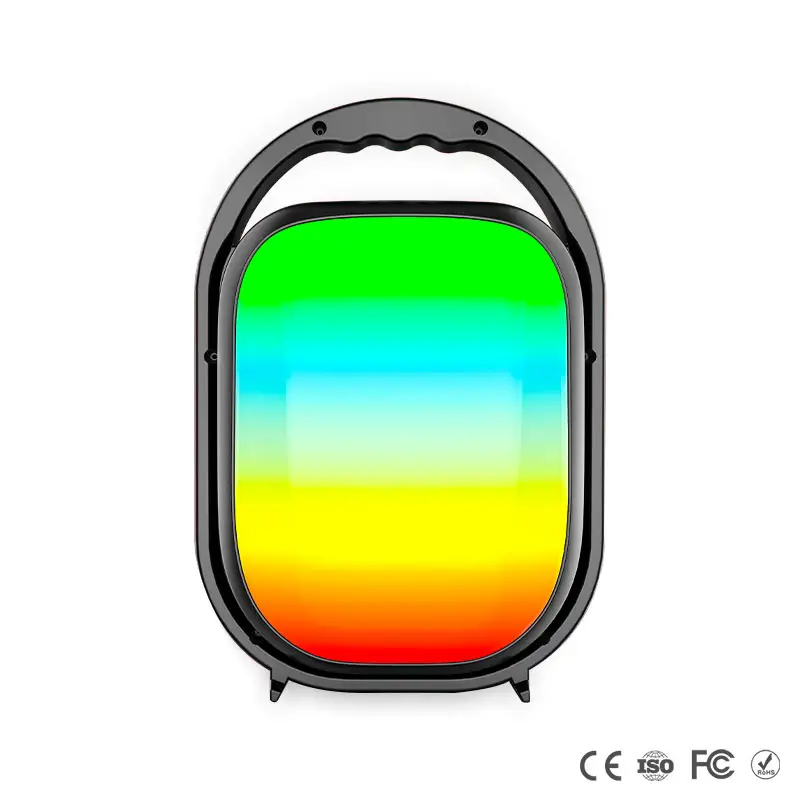 6137
Bluetooth Version: V5.0
Function: FM, TF, TWS,Mic,RGB Lighting
Horn power: 6" 12W
Color: Black/Green/Blue/Pink/Orange
Battery:3.7v/1200 mAh
Product size:190*130*288 mm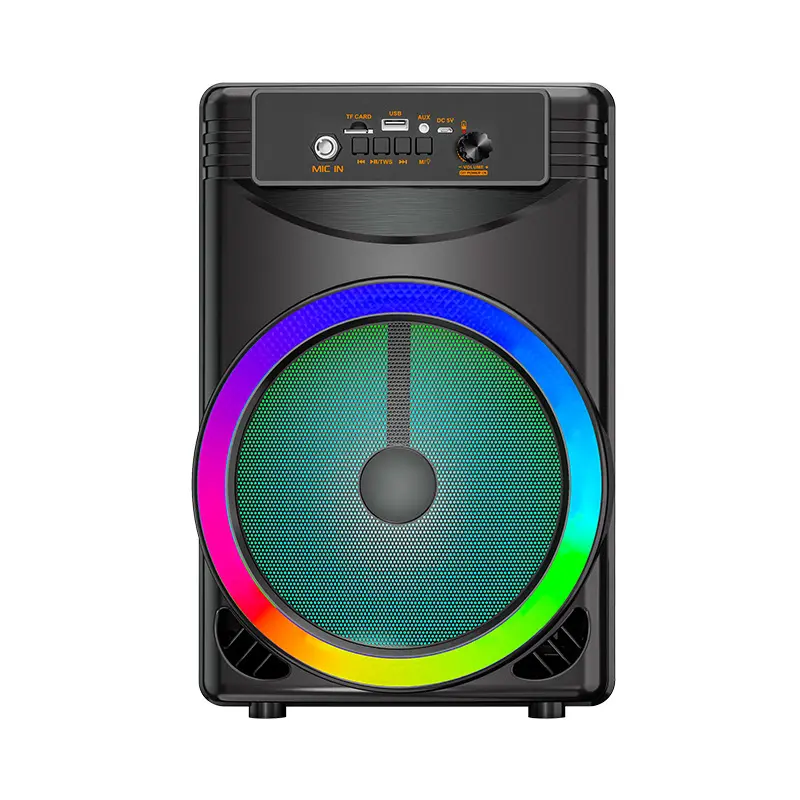 8146
Bluetooth Version: V5.0
Function:Bluetooth, TF, AUX, FM,USB
Horn power: 8" 16W
Color: Black
Battery:3.7v/1800 mAh
Product size:230*187*350 mm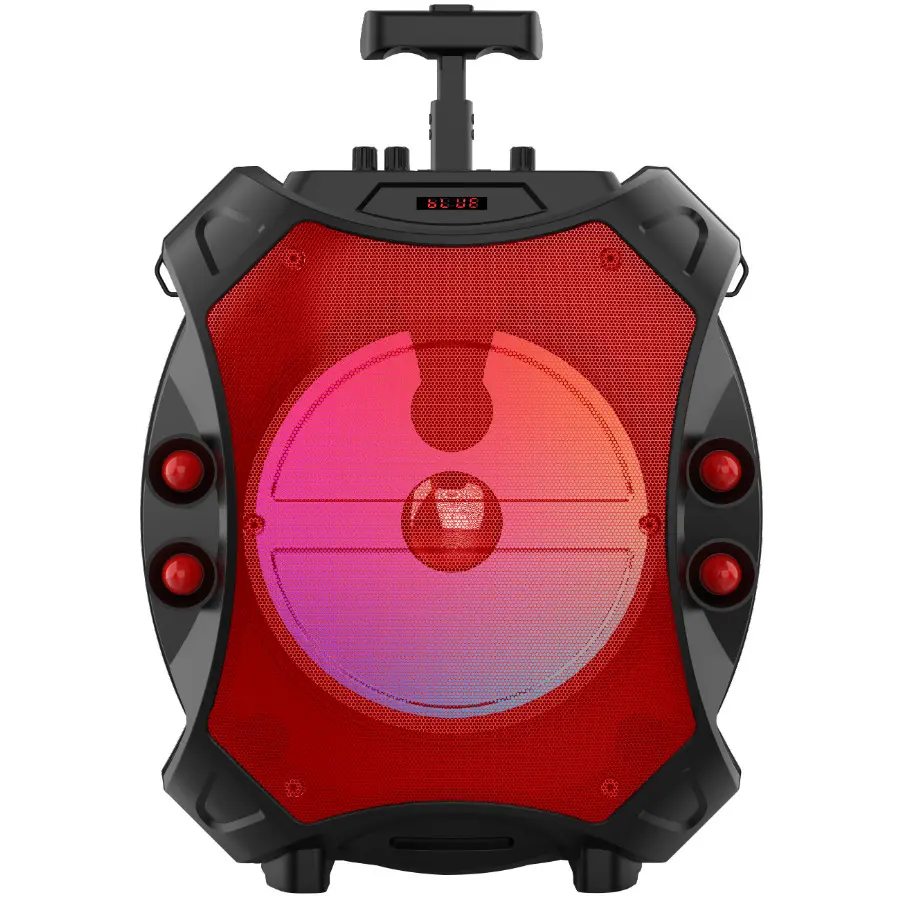 12109
Bluetooth Version: V5.0
Function:Bluetooth, TF, AUX, FM,USB
Horn power: 12" 30W
Color: Black
Battery:3.7v/3600 mAh
Product size:395*280*450 mm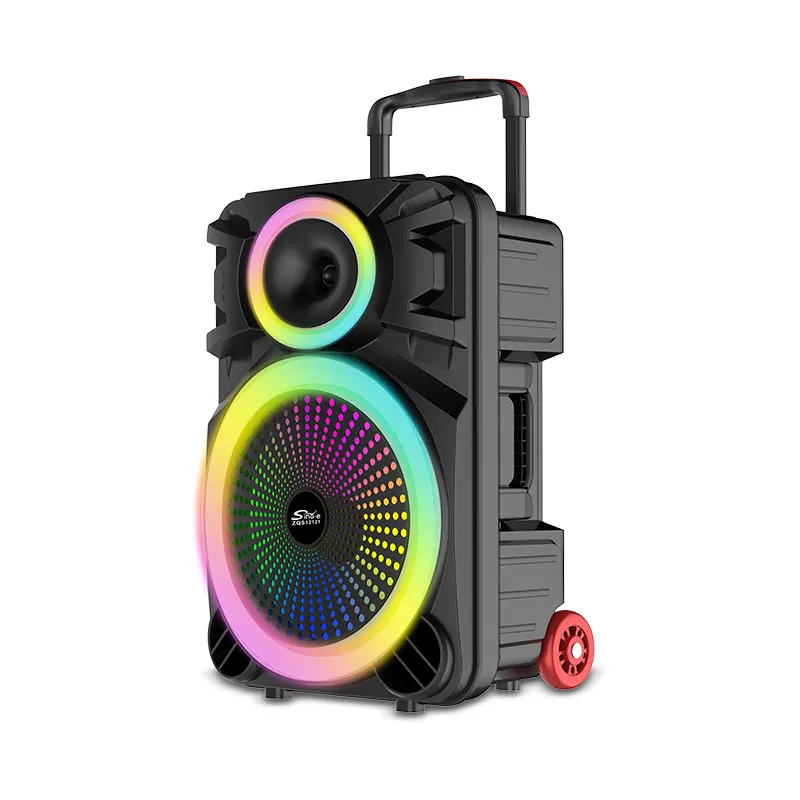 12121
Bluetooth Version: V5.0
Function:Bluetooth, TF, AUX, FM,USB
Horn power: 12" 60W
Color: Black
Battery:3.7v/5400 mAh
Product size:427*360*657 mm